To view the recorded webinar that goes along with this blog post, click here.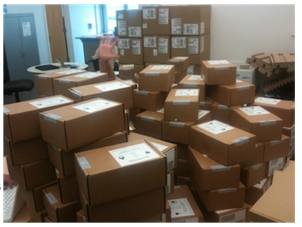 We all believe that the iPad has the potential to transform student learning. However, as an IT administrator, it can be daunting to turn a stack of newly minted devices into engaging educational tools in the hands of your students. If your school district plans to roll out over 50 iPads to classrooms and have been avoiding the "D" word like the plague, have no fear. eSpark is here to ease your deployment and management woes!
iPad deployment includes all of the steps between buying an iPad and beginning to use the device. For an individual's personal iPad, this is often a very fast and easy process lasting no longer than five minutes: You just open the box, turn it on, download the apps you want on your device, and go. But for a school or district with potentially hundreds of classroom iPads, devices often require a specialized list of apps that need to be purchased and synced before sending them out to classrooms. As an administrator or teacher, it is important to understand the basics of iPad management before you deploy classroom iPads. Lucky for you, the eSpark engineering team has created a 5 Step Deployment Road Map highlighting the best practices and considerations for deploying and managing iPads in the classroom.
Deployment Road Map: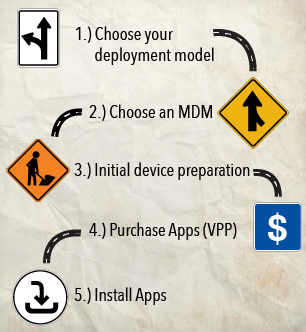 It may take several days to several weeks to complete all of the steps involved in iPad deployment depending on the size of your school or district and how many iPads you need to deploy. It is crucial to develop and communicate a detailed plan and timeline before diving into the deployment process. We recommend planning a minimum of three whole days of deployment, and then adding on three days for every 1,000 students in your iPad program. For example, if you are deploying iPads for 3,000 students you should plan on 12 days of deployment (using the equation 3+3x).
Step 1: Deployment Model
The first step in the iPad management process is to plan what type of model your district will implement with your devices. Some schools choose to adopt a 1:1 model and provide every student with their own iPad. Another option is to use a split class model in which half of the classroom will work independently on iPads while the other half receives targeted instruction from the teacher—effectively lowering the student:teacher ratio. You could implement a flexible centers model in which students rotate between an iPad center and other teacher-created centers—enabling 5 or 6 iPads to be shared by an entire classroom of students. A mobile iPad cart allows a group of iPads to be shared amongst multiple classrooms in a school. Deployment and setup will differ depending on which classroom model you choose, so the earlier you decide how students will engage with iPads in the classroom, the better.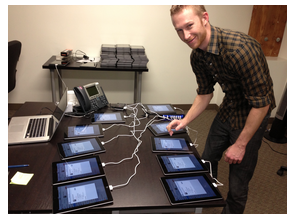 Step 2: Mobile Device Management (MDM)
A Mobile Device Management (MDM) system uses push notifications to wirelessly collect and send information to iPads. There are currently about 50 MDMs on the market, but most have the same core functionality. One of our largest district partners uses JAMF Casper, which is one of the most comprehensive iPad management systems (but also one of the priciest). If you are new to MDMs, our engineers recommend starting with Meraki. It's free, easy to use, and provides a decent amount of iPad management functions. Apple also has an MDM called Apple Profile Manager, which comes with the OSX server and only costs $20 if you have a Mac Mini to run it. However, our engineers don't recommend Apple's product at the present time, because Apple's server products are not the most efficient for large-scale iPad management.
Step 3: Initial Preparation
When you're working with hundreds of devices, a little planning will go along way during the year. Once all the classroom iPads are stacked in a pile or connected in a sync cart, how will you know which device is which? Here's an insider tip: Apple's boxes have a barcode with the serial number of each iPad on the outside. Stickers can be a great tool to use to put an asset tag or your inventory code on the outside of both the iPad and the iPad case. You can use your MDM to help organize all of the device information together. Naming devices in purposeful ways—by building or classroom;mdash;will enable you to locate a specific iPad using your MDM. For example, name devices "Timothy Jones" or "BIRD-3A-2" instead of "Timothy's iPad" or the default "iPad".
Apple Configurator is a great tool for initial device setup. You can use it to upgrade to the latest version of iOS, configure the MDM, configure WiFi access with a profile, add device restrictions, and add any apps that are standard to all devices. We also recommend that schools make their devices supervised in Apple Configurator. This allows your district to have more security and control--however, the biggest downfall of this option is that the devices will be tied to a single computer.
Step 4: Purchase Apps (VPP)
With the App Store's 100,000+ educational apps for the iPad, it is possible to design a digital curriculum for any grade level, in any subject. However, with the huge variety of apps, finding the right apps can be an overwhelming challenge. There are several resources and services online that you can use to assist you in your search, or you can use eSpark's platform that provides a personalized curriculum for every student's unique learning needs.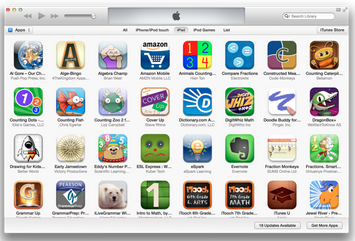 Once you have selected the iPads apps for your digital curriculum, you'll need to purchase them. Before you purchase, you need to figure out which apps will go on which devices (remember that organized deployment plan?). For example, if six students share one iPad, they can use the same apps without your organization having to buy the app six times over. However, if six students share two different iPads, you would need to buy an app for each iPad. This complies with the terms and conditions of Apple's license agreement.
Once you know how many apps you need to buy, you can begin the purchase process. Most educational iPad apps can be purchased from Apple'sVolume Purchase Program (VPP) for Education store, which offers a 50% discount on any order of 20 apps or more. When an app is purchased through the VPP store, you are given a code that can be redeemed for an app either through the iTunes Store or Configurator. For more information on the VPP process, read our blog post: VPP: Buying iPad Apps for Education.
Step 5: Install Apps
Syncing is a term used to describe the process of downloading apps onto an iPad. There are two methods for syncing iPads. In a wired solution, syncing requires a computer that has all of the apps pre-downloaded. The apps are then transferred from the computer to the iPad via a USB cord. You can also use a wireless solution and download apps directly onto an iPad over the Internet. There are a variety of both wired and wireless methods that can be used to sync your iPad. We've outlined the most popular and included the advantages and disadvantages of each:
Apple Configurator - Wired
Apple's official recommendation for iPad deployment is a wired solution that uses purchased VPP codes on a computer. As each iPad syncs, Apple Configurator redeems the VPP codes from an Excel spreadsheet and submits the information to Apple.
| Advantages | Disadvantages |
| --- | --- |
| Can prepare a set of new iOS devices that are configured only once and then deploy to users. | Loading VPP codes onto Excel spreadsheets is a tedious process that requires a lot of manpower and time. |
| Update device to latest version of iOS, install configuration profiles and apps, enroll the devices with your organization's MDM solution, and go! | Paid app installment requires iPads to be "supervised" by one computer used for deployment so all future changes to the iPad must come from that specific computer. |
If you choose to use Apple Configurator, we recommend only using it for mass syncing and use an MDM for smaller changes and inventory.
iTunes - Wired
iTunes uses a different protocol for syncing where you redeem one VPP app code per iTunes authorized computer, and keep the rest on hand as proof of purchase.
Advantages
Disadvantages

Only have to redeem a single VPP code per app
Do not need to supervise devices
Can make changes on the iPad with any iTunes authorized computer

This method was built for personal use and does not have an elegant method of keeping track of apps on your computer, especially if you are using the different Apple IDs to purchase the apps and sync the iPads.
MDM
If you have strong WiFi and dispersed campuses where central management is difficult, we recommend using an MDM for deployment.
| Advantages | Disadvantages |
| --- | --- |
| Manage everything centrally in one place | Can bog down WiFi network |
| Fewer site trips to collect iPads from classrooms | Still need an end user with an Apple ID and password to accept apps and changes to iPads (iOS7 fixes this but not in time for all deployment) |
eSpark's Approach
With the roadblock of needing users to enter a password and accept changes, we use a wired solution to sync apps and an MDM to track license changes and check inventory--how many iPads a classroom has, which apps are installed on each, etc. While we still support major MDMs such as Casper and Airwatch, we recently built our own MDM to better integrate with our system so that we can quickly see which students are missing apps in the eSpark curriculum.
Want to learn more about iPad deployment and app management?
Be sure to check out our free, recent webinar:
Easy iPad Management at Scale