eSpark is thrilled to partner with JAMF Software, a leader in Apple device management, making it easier than ever before for districts to deploy differentiated apps and videos to hundreds of students at one time. JAMF Software announced that "the move combines eSpark's unique learning technology with advanced mobile device management capabilities from JAMF Software's Casper Suite, allowing schools to automate app distribution based on the individualized learning needs of each and every student."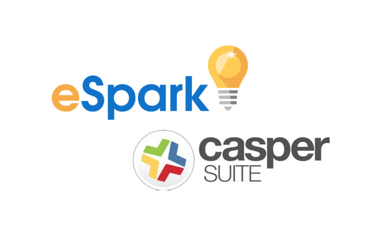 At eSpark, we want to make differentiation as easy as possible for school districts without creating extra work for teachers or IT departments. This integration can be transformative for district or school-wide iPad initiatives, streamlining device management, and maximizing resources while meeting the needs of all learners.

The Casper Suite and eSpark integration will allow every student to enjoy a 1:1 experience, regardless of the number of devices a district has.
In a 1:1 instructional model, every student is given access to a device that is customizable to their needs and preferences. This means that 1:1 programs are often able to meet the academic needs of students and free up teachers to provide more targeted small group and individual support to students.
The Casper Suite and eSpark integration allows districts using a shared device model to also provide students with a 1:1 experience. eSpark uses existing third-party assessment data to diagnose individual student needs and create differentiated lesson plans made up of captivating apps, instructional videos, and creative projects. "With our Casper Suite integration, technology teams can now simplify iPad management and app distribution, making differentiation not only possible, but easy. We're thrilled to partner with JAMF Software to help more districts leverage technology to meet the needs of every learner," offered eSpark CEO and Founder David Vinca.
Keep students engaged and invested in their learning with smart device management.
Educators and administrators know that good edtech can lead to life-changing student outcomes, but when it's not used properly, classroom technology runs the risk of distracting or deterring students from their learning. The Casper Suite and eSpark integration ensures that students never have to wait for an administrator to manually put apps onto their device. Immediately after students complete a quest, new apps are pushed to student devices or automatically revoked if they are no longer in use—all with minimal disruption to students. This means that students don't lose momentum as they move from one lesson to another and ensures that students spend undivided time fully immersed in their eSpark curriculum.
Read the full announcement from JAMF Software and eSpark here.