Day in and day out, eSpark engineers are able to make a real impact on students' lives.
Our engineers, a small, collaborative and diverse team, are invested in their work. Why? Because they believe in the product—every day, they are working to dramatically improve students' lives.
This is one of our greatest appeals as a company. Although few of our engineers come from an education background, all joined because they wanted to use their coding skills for good.
What sounds like a lofty ideal is actually attainable here at eSpark.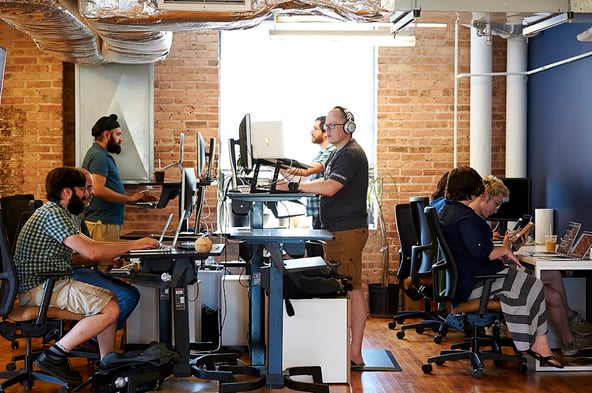 The features our engineers build on a daily basis almost always "directly impact the students," says Kairui Wang, a mathematics and economics graduate from University of Chicago who, after a brief run as a fraud analyst at a financial company, joined us last May.
Hillel Wayne, who just recently came over from Edmodo in San Francisco, says that knowing that he's working on a rigorously verified project is very satisfying. "This isn't just a pitch in the dark," he asserts, "this is something that we know is going to help students."
The others agree. "To me, seeing the data is one of the most exciting aspects of the job," comments senior engineer Alex Koppel, who has been on the team for over two years.
Alex is talking about the beginning and end of year tests our students take to measure success. By comparing three numbers (beginning of year results, predictive end of year results based on initial tests and actual end of year results), we are able to confirm that our product works.
The end of year results in the "goal areas," the subjects in which the students received personalized education from eSpark, are significantly higher than in the "non-goal areas," the subjects where they didn't get personalized education. These results hold true across all of eSpark's partners regardless of school setting (urban, suburban, rural, public, charter, private, private-religious, etc.) What's more, eSpark doesn't "teach" to these diagnostic tests—their curriculum is solely based on third party apps.
In many of our strategic district partnerships, our personalized curriculum has been known to help double the number of students on track for college and career readiness.
It's no wonder then why our engineers are so inspired by their work—the data shows that they are having a real impact.
"Instead of being just a cool idea, it's a cool idea that also works!" Alex laughs.
Our engineering team is an eclectic bunch who come from backgrounds ranging from a water engineer in the Peace Corps to a biochemistry researcher in a flu-lab. But being the techies that they are, they all appreciate eSpark on a personal level. From school computer labs to high school software classes for a lucky few, for all of them, technology, in some way or another, played a part in shaping them and their career paths.
That being said, the school technologies fifteen or twenty years ago weren't always educationally beneficial. "We were frog-marched down to the computer lab to basically play games—somewhat educational games like Frogger or Numbermunchers, but they didn't really have any connection to what we were doing. It was neat to use computers, but it didn't add anything significant to my education," reminisces Alex.
He continues, "I remember spending a lot of time in school sneakily reading other books, which maybe wouldn't have been the case if we were given the opportunity to really do cool stuff with technology," adding that he was fortunate that his parents owned computers, so he was able to learn a little programming at home.
Meara Charnetzki, the team's newest member and very first support engineer, says that it's super obvious to her that having something like eSpark, where you are able to work independently and be challenged appropriately, would have been a huge thing for her in elementary school. "I remember having some interesting conversations with teachers…" she trails off chuckling.
"To have the ability to push yourself to your limit, rather than having to worry about the average across the entire classroom—I definitely would have benefited from that!" claims Ken Schultz, another new team member who came from Grubhub just a few months ago.
Of course, we all know that eSpark couldn't have existed back in the day, during what Meara calls the "golden age of Oregon Trail," because the technology wasn't yet in place.
But our engineers are confident and satisfied knowing that the next generation is, in fact, getting the best education possible. And, in many ways, it's all because of them.