In order to prepare students for the jobs of the future, teachers are eager for resources that contextualize math and ELA standards within their students' world. Until now, there's been a shortage of readily accessible activities and projects that allow students to creatively apply what they learn in school to answer the complex questions they'll encounter in college and careers. To that end, school districts across the country are renewing the emphasis they place on the 4Cs—creativity, communication, critical thinking, and collaboration—by harnessing the power of differentiated instruction and classroom technology. Read on to find out how teachers are using Frontier, a new web-based program, to nurture these skills through creative projects about topics students care about.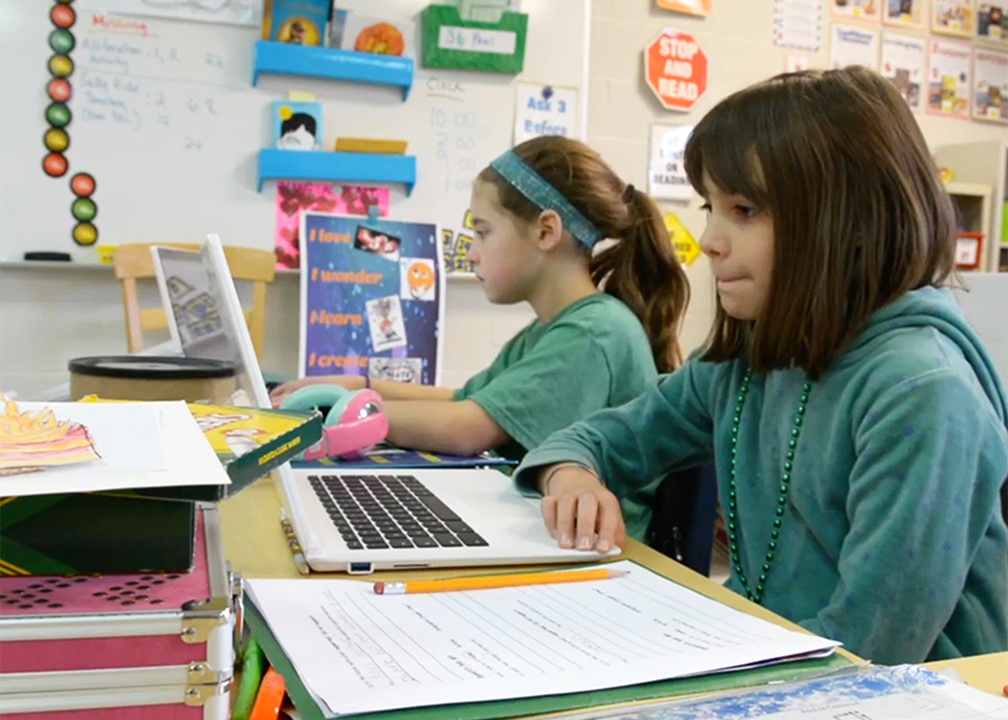 Critical Thinking
Upon signing in to Frontier, students select a topic they'd like to learn about. Built around complex, timely topics such as space travel, the payout structure of music streaming services, and climate change, Frontier projects are aligned to students' unique learning levels as determined by third-party assessment data.
Within each project, or Frontier, students are faced with an essential question that is meaningful to them. If a student is fascinated by computer science, she would spend 4-6 weeks pondering the question, "Should every school teach kids how to code?"
To support their research, Frontier provides students with diverse online resources curated for quality, rigor, and interest. As students work through articles, videos, infographics, and podcasts, they're prompted to think critically about the information they're presented with and take notes that will allow them to form a nuanced, complex answer to their guiding question. "Frontier helps students with their academic skills—their writing, their reading, their analysis of text, their analysis of complex concepts—because it's not just about the texts. Frontier asks students to really think deeply about the topics that inspire them," says Dr. Elizabeth Freeman, Director of Innovative Learning, Teaching, and Technologies at Fremont School District.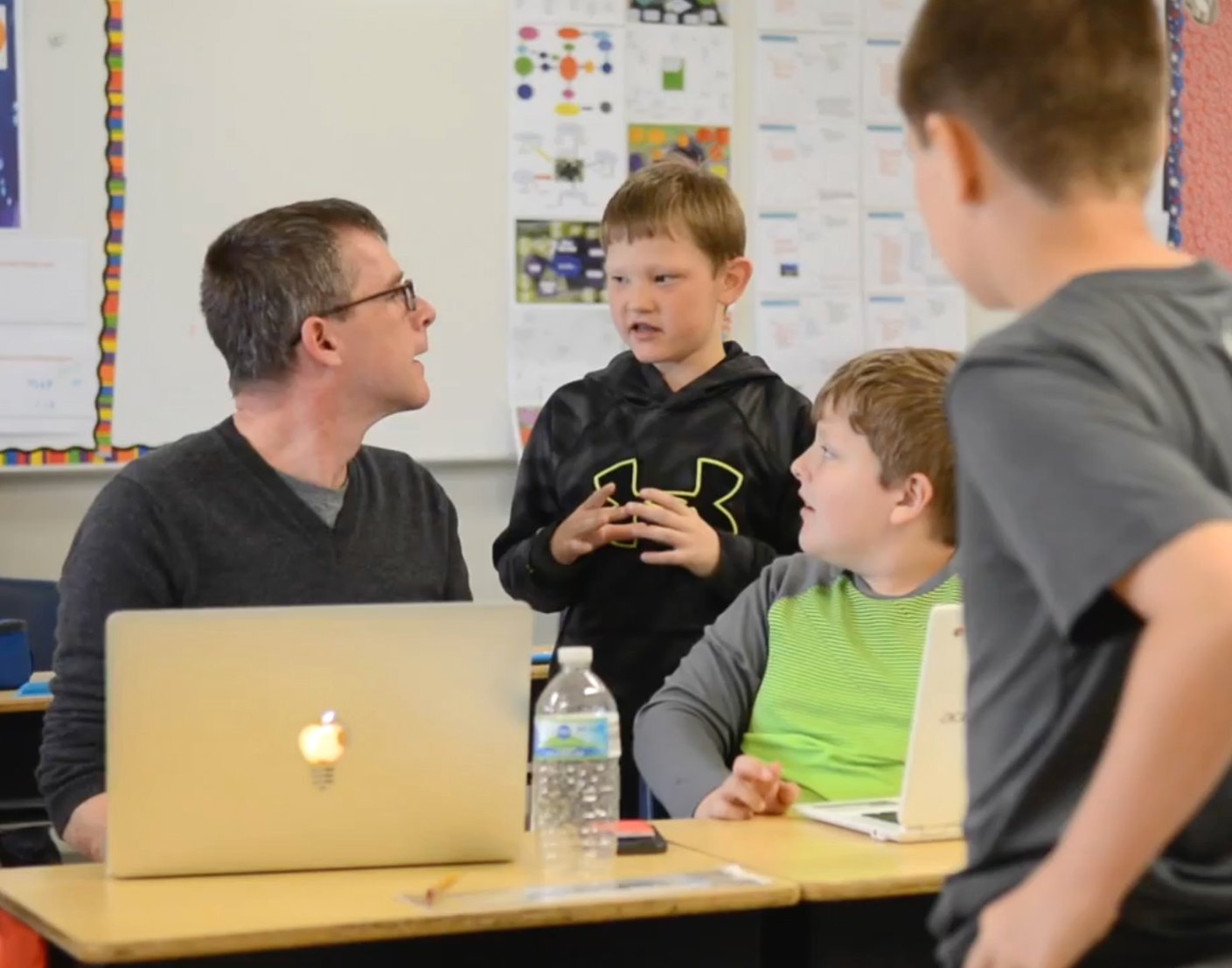 Communication
Regardless of topic and subject matter, each Frontier is designed to build stronger writers. "Frontier allows students who have writing anxiety to perform and convey their ideas without any sort of hesitation or fear," says Cindy Kopp, a 5th grade teacher at Mineola School District. After working through their curated research, students use either Google Docs or Google Slides to create a final project, which often involves writing a convincing letter or crafting a compelling presentation, exercises that help to develop skilled communicators.
Frontier's varied digital resources model for students what creative, compelling communication can look like. By synthesizing these resources into a final project, students learn how to incorporate a number of viewpoints into their communication and begin to develop their own opinions on complex topics.
Collaboration
Within Frontier, students are asked to give and receive anonymous peer feedback on project drafts before revising and submitting their work for a final grade. This process allows students to see what their classmates are working on and teaches students how to provide kind and constructive feedback to others.
In classrooms using Frontier, it's not uncommon to find students chatting with each other while completing their independent work, sharing what they're learned about different topics that matter to them. When students are allowed to become experts in a topic of their choosing, they can't help but collaborate with their classmates and share what they're learning about.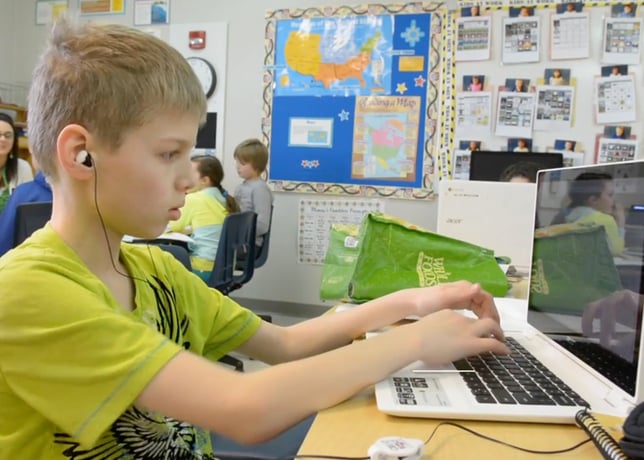 Creativity
Frontier taps into students' natural creativity by encouraging them to explore topics they already care about. Students are provided with resources that are curated specifically for their learning needs, chosen because they rank among some of the most creative approaches to tackling a popular topic or problem. For example, students working on a third-grade level who are interested in learning what it's like to be an astronaut will be shown a video that uses CGI to visualize the vivid skyscape astronauts see every night when they're in space. After working through additional resources, students are then asked to imagine that they are applying for a job at NASA and write a letter using creative and persuasive writing to make a case for why they should be hired.
By creating carefully researched screenplays, letters, presentations, visual art, and posters, students using Frontier must creatively apply the knowledge they gather from digital research, solidifying their understanding of state standards while developing their unique way of thinking.