There's a universal piece of wisdom that says that people don't grow when things are easy. Rather, we grow when we are challenged.
This certainly holds true for our engineers here at eSpark. In fact, it has become a kind of motto for the team.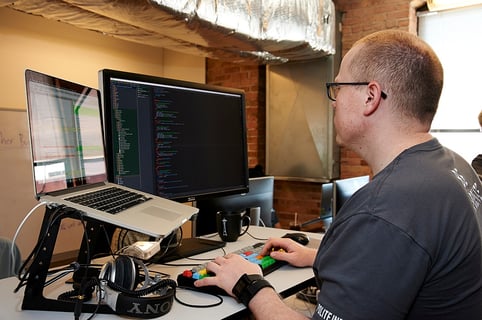 Because despite, or perhaps because of, the numerous challenges along the way, "the learning potential is huge," marvels Ken. It's one of the perks of working at a small company, and one of the reasons Ken left Grubhub to join us.
Ken and Kairui both joined the team without any professional experience using Ruby on Rails, the programming language and web framework we use for our app. Learning on the job, however, allowed them to progress at a much faster rate than they could have on their own. "I had people right nearby who I could ask questions to at any moment and get immediate feedback," Ken remembers.
Surprisingly enough, Ken reports that his greatest challenge wasn't Rails but rather iOS development.
When he first arrived a few months ago, we had just one iOS developer, and he was moving on. We now needed someone to quickly pick up the project, and that person ended up being Ken.
He had roughly two weeks to learn as much as he could about iOS development, master the language and get the app out the door. "It was a very, very quick turn-around time!" Ken exclaims.
Can you imagine a more thrilling way to begin a new job?
Ken elaborates on some of the other benefits of a small work environment, "There are so many areas you can jump to very quickly because everyone needs to pitch in. Everyone is invested in everything. And everyone's opinion matters."